This is my personal recommendation if you would like to use a collection of codecs for your Windows. It is a part of the main article called How to play movies in Windows. I strongly recommend you to uninstall any other codecs if you already using other codecs. Supposing that you don`t have any other codecs installed on your computer, now it`s time to download K-Lite Codec Pack – this is the software package that I am using to play movies on Windows and it works for both XP, Vista and 7 but it will probably work on other versions of Windows. After downloading K-Lite Codec Pack ( this is the Mega Pack but the info should be useful for other versions such as Lite, Standard or Full ) it`s time to start the installation process. Press the "Next" button to continue with the installation:

Choose an installation mode, you have to select one from simple, advanced and expert mode.

Now it`s time to to select the installation folder for this program. If you want to select other location you can click on "Browse" and choose other destination for this installation. If not, this program will be installed by default in a normal location "C:Program FilesK-Lite Codec Pack" ( I am leaving it this way ) and again press the "Next" button.

In this window you are going to be asked on what components to install and you can choose from a couple of profiles. If you know what you`re doing you can change to other profile or choose to customize your own components but I would recommend to leave it as they are, there is no need to change something for most of us, leave it like in this picture :

Again, hit the "Next" button and you should see a new window like in the picture below :

If you would like to change something else, you can do it now. Otherwise a new window will appear, press the "Next" button to continue the installation :

Make sure that you read the information regarding DXVA Hardware Acceleration in this window as it it`s very important.
DXVA decoders use your graphics card to do most of the decoding work. This
results in a significantly lower CPU usage.
If your computer dates from 2008 or later, then it is very likely that it supports
DXVA. If DXVA can`t be used for whatever reason, then Media Player Classic will
automatically fall back to using an external decoder for the video. So you can
safely enable it even if you aren`t sure whether your computer supports DXVA.
In some situations DXVA can lead to playback problems, so we advice to use it
with caution. These problems are usually caused by a buggy graphics driver. If
you encounter a problem, the first thing you should try is to update your
graphics driver. If that doesn`t help, disable the internal DXVA decoders in the
options of Media Player Classic.

Select the player for which you would like to create file associations –  Media Player Classic is another player coming ( integrated in this codec pack ) so you should leave this as it is and move on.

I would recommend you to leave all of these options as they are. It doesn`t matter if you use another media player, you can simply re-install your favorite player and it will overwritten those settings. Go to the next step.

Again it will ask you select other file extensions, I am not changing them, just move on…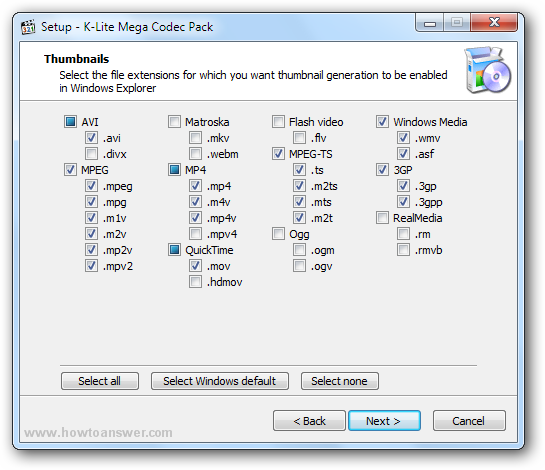 Select the desired channel output for the audio decoders from the pack. As you can see I selected 2.0 stereo since I have a laptop but if you have another audio configuration feel free to choose the one that works for you.

Easy access to web search, videos, news, weather, Facebook, Twitter and much more, all one dick away directly from your browser! I really don`t want these installed on my computer so I just unchecked these options and moved on.

Setup is now ready to begin installing the K-Lite Mega Codec Pack on your computer, this is it, we`re almost ready. If everything went well you should now see the last window from the installation process, you have finished the configuration for K-Lite Codec Pack and the program is now ready to be installed on your computer – if you agree and ready press the "Install" button :

Depending on your computer speed, but usually in a couple of seconds you should see the last window that confirms that K-Lite Codec Pack has been successfully installed on your computer. There is no need to configure any video or audio decoders, just click on "Finish" button and the setup window will close.

Congratulations, you have installed K-Lite Codec Pack on your computer and now you should be able to play movies on your Windows using your favourite media player. If you noticed, we have choosed "Profile 1: Default" and this is a basic installation that will install automatically Media Player Classic on your computer. This is one of the best choices when you need a good media player for Windows. However, be aware that not all media players works fine with K-Lite Codec Pack and we do have another free, multimedia player recommendation. Since the first version of this article ( 2009 ) and right now ( 2012 ) we are using GOM Player ( formerly known as GOM Media Player ), it is small, extremely functional and it works excellent with K-Lite Codec Pack and it does not interfere with Media Player Classic that comes with integrated with this codec pack.